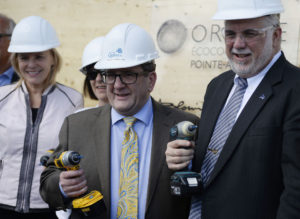 Quebec, June 14, 2016 – Many politicians, including Prime Minister Philippe Couillard and Mayor Régis Labeaume, participated at the press conference announcing the imminent launch of the wooden tower construction on Tuesday at Pointe-au-Lièvres.
The construction of the tallest wooden condominium tower in North America will be launched shortly in the Pointe-aux-Lièvres eco-district, which is beginning to take shape.
Prime Minister Philippe Couillard and Quebec City Mayor Régis Labeaume proceeded with the official launch of the project on Tuesday morning. The ceremony of the first symbolic groundbreaking ceremony was reinvented for the occasion. The dignitaries swapped the shovel for a drill to screw a laminated wood panel glued to the future framework.
Highlighting the «audacity» of the promoters and their innovation that will make Quebec City shine internationally, the Mayor and the Prime Minister have in praised the project and its ecological virtues, as well as the use of 100% Quebec wood (Chibougamau) as an added value.
«It is a great way to illustrate all our talent, our creativity and the genius of Quebec. There is not just the C series» said Philippe Couillard, seeing in this project a «profound message» of support sent to the forest industry and all the families that depend on it.
The Quebec government paid the costs of carrying out the fire resistance tests to demonstrate the stability of the structural concept and published a guide for the construction of wooden buildings. The Building Code was also amended last year to allow the construction of 12-storey towers.
The Origine tower will have 12 wooden floors (13 including the basilaire) and will offer 92 condos units. The first occupants will be able to move in during spring 2017 as the construction technique with cross-laminated timber panels provides 30% gains in time on a traditional construction site.
ECO-DISTRICT CHALLENGE
«It's important for us that this project works. It will enable people to believe in Pointe-aux-Lièvres», said Mayor Régis Labeaume.
«Shortly, we will have 350 units on an industrial land that has been condemned for several years. People were desperate to see it valued (and) in three or four years, the two-eco-neighborhoods will be built on lands that had been idle for several years» he said, recalling the proliferation of projects.
Ottawa also subsidized the $25M project for $1.2M to cover the additional costs of research and development of high-rise wood buildings.
The $3.8M penthouse – the largest and most expensive penthouse in Quebec – has not been sold yet. With an area of almost  10,000 square feet, it occupies the 11th and 12th floors of the wooden tower. The building will be built by the NEB consortium, composed of EBC, Nordic structures Bois and Synchro immobilier.
ORIGINE ECO-CONDOS
Delivery spring 2017
12 solid wood floors (13 including the balisaire)
92 units
A 3.8M penthouse (largest and most expensive in Quebec City) occupies the 11th and 12th floors. It has not been sold yet.
Realized by the NEB consortium (EBC, Nordic Wood Structures and Synchro Immobilier)
Source 
Le Journal de Québec – 14.06.2016